JOHN GRILLO (American, 1917-2014), Untitled, 1949, Oil on Board, 25.5" x 31.5" (framed)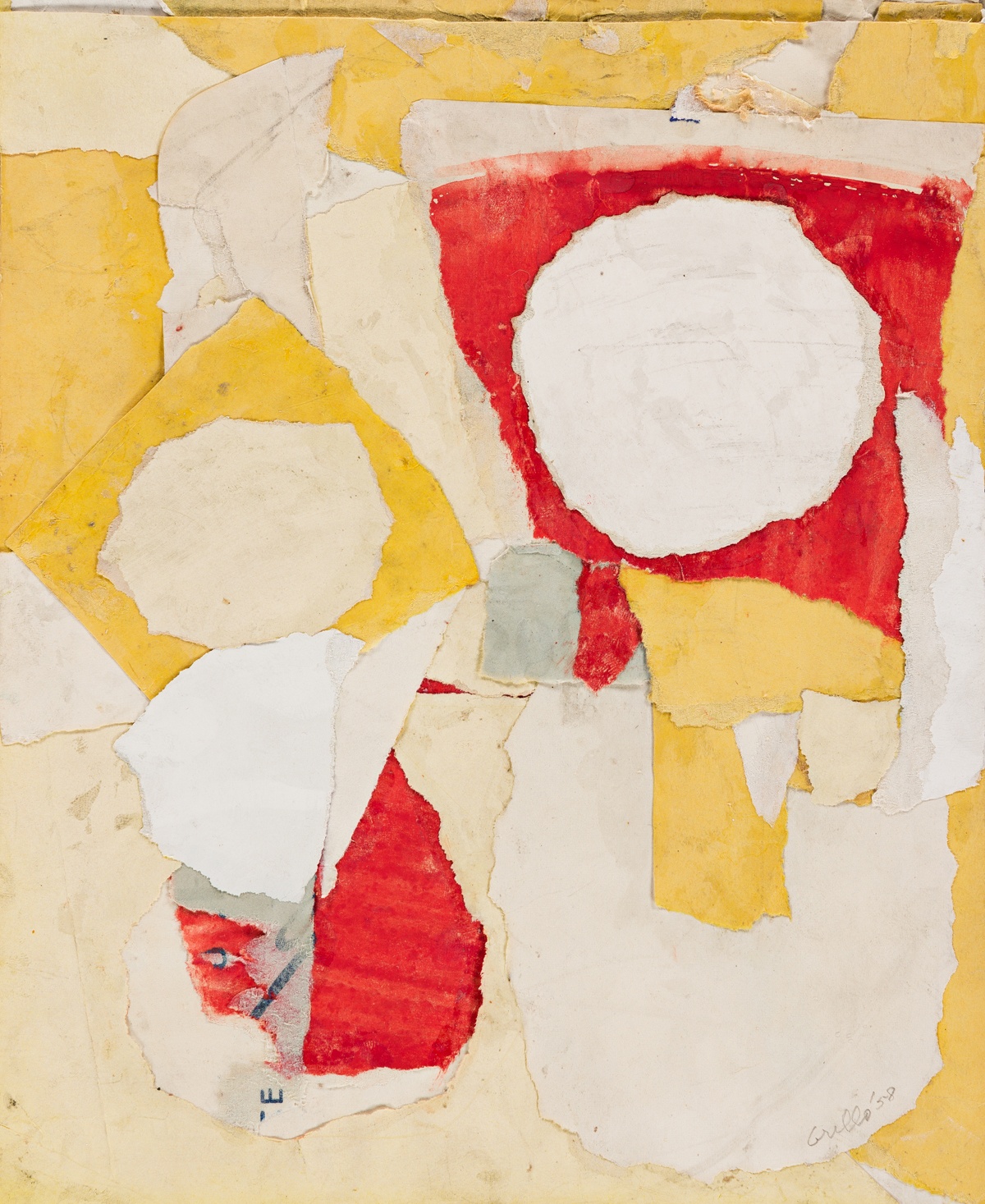 JOHN GRILLO (American, 1917-2014), Colored paper on collage, 1958, 11.5" x 9.5" (more)
John Grillo
John Grillo is known as one of the most aggressive West Coast (Bay Area) artists to pursue Abstract Expressionism. Over a career spanning 65 years he has painted in oil, gouache, watercolor, and poster-based water paints.
He was born in Lawrence, Massachusetts in 1917. After receiving his diploma from Hartford School of Fine Arts from 1935-1938, Grillo continued his education at the California School of Fine Arts, later studying with Hans Hoffman on the east coast in 1948.
Grillo animated his surfaces in a variety of ways, ranging from broad gestures to streaked and spattered paint, and these works exude a sense of sensuality and delight in the manipulation of the paint. The colors are radiant and in some cases phosphorescent. Although he studied with Hans Hoffman on the east coast in the late 1940's, Grillo's legacy in San Francisco was considerable. His freewheeling and unorthodox approach opened possibilities of expression and served as an important catalyst for liberating the painting of artists like Richard Diebenkorn.
Along with a career in painting, Grillo taught at various institutions such as the University of California at Berkeley and the Pratt Institute. His role as one of the early architects in the Expressionist Movement has given him much notice and representation among numerous museums and prominent collections.
Sources: askArt
Susan Landauer, from "John Grillo: The San Francisco Years." Art of California 3 (May 1990) pg. 56
Selected Solo Exhibitions
1947 Daliel Gallery
1960 Tanager Gallery
1961 The Howard Wise Gallery
1962 University of California, Berkeley
1964 Butler Institute of American Art
1969 Benedict Art Center
1970 Robert Dain Gallery
1973 Landmark Gallery
1982 Jean Lumbard Fine Arts
1984 Museo de Arte Moderna
2000 Aaron Gallery
1988 Provincetown Art Association
Selected Group Exhibitions
1950 The Kootz Gallery
1955 Walker Arts Center
1953 Whitney Museum of American Art
1960 Walker Art Center
1961 Solomon R. Guggenheim Museum
1961 Yale University
1962 Dallas Museum of Fine Arts
1962 Seattle Worlds Fair
1963 Museum of Modern Art, New York
1963 San Francisco Museum of Modern Art
1970 The Brooklyn Museum of Art
1973 The Oakland Museum of California
1979 The Metropolitan Museum of Art
1996 The Laguna Beach Museum
Selected Collections
The British Museum
The Metropolitan Museum of Art
The Solomon R. Guggenheim Museum of Art
The Whitney Museum of American Art
The Brooklyn Museum of Art
Walker Art Center
Los Angeles County Museum
Butler Institute of American Art
Bundy Art Gallery Museum
Smith College Museum
Bennington College
Portland Museum