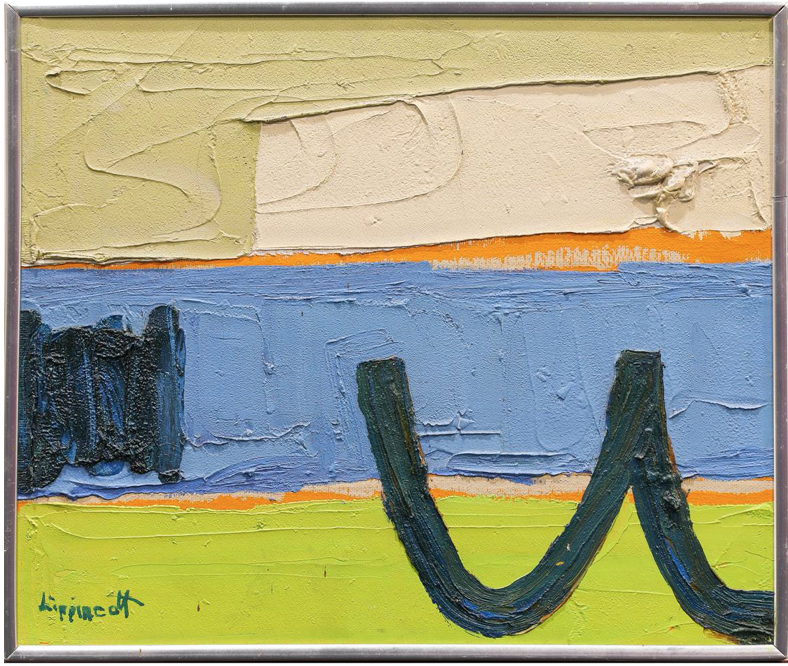 JANET LIPPINCOTT (1918-2007), Mexico Chappalla, 1967, oil on canvas, signed, titled, and dated verso
Janet Lippincott
American(1918- 2007)
Lippincott was born in Brooklyn, New York, and exhibited artistic talent from an early age. Her family lived in Paris for part of her childhood, where she hungrily absorbed the aesthetic innovations of Picasso and Matisse. As a teenager, she studied at the Art Students League of New York, following in the footsteps of Georgia O'Keeffe and other modernists who would become art pioneers of the West.  "I didn't like to be told what to do," she later recounted to a longtime art dealer. "So I quit that and I went off to war."
During World War II, she enlisted in the Women's Army Corps and was attached to General Eisenhower's staff. Later she liked to tell the story of how Patton stormed in demanding to see Ike and how she told him to take a seat and keep his mouth shut. In 1949, she drove to Taos for instruction in Emil Bisttram's School of Art on the G.I. Bill. He  wrote a glowing review of her exhibition at the Jamison Gallery in 1972.
Lippincott briefly studied at the Colorado Springs Fine Arts Center and the San Francisco Art Institute on fellowships. In 1957, she moved to Santa Fe, setting up an adobe house/studio that she built on Canyon Road. Many the artists there were working in response to the Southwestern landscape, light, and culture, with no attention paid to Abstract Expressionism.
Lippincott found a deep well in working in various media. She continued to keep drawing as an underlying discipline, and she was a member of a drawing group in Santa Fe for about 25 years until about 1987. Lippincott was one of the first artists to create lithographs at the Tamarind Institute. In the 1970s, she dove into sculpture, shortly after the Shidoni Foundry opened in Tesuque.
She was very much a loner and was married once for 10 days. "That was 10 days too long," art dealer Karen Ruhlen recalls the artist saying. While she enjoyed the company of a man, she was always self-reliant and "a little on the ornery side," Ruhlen adds. "Janet was an artist to the core. Making art was like breathing – it was her way of talking and expressing emotions."
– Askart, from David Cook Galleries.
-Mathews Gallery Blog, Nov. 2016
Selected Solo Exhibitions
1957 Los Artisanos, Las Vegas, New Mexico
1957 Mexican-American Cultural Institute, Mexico City
1958 Abstractions in Colored India Ink, La Galleria Escondida, Taos, NM
1959 Mid American Exhibition, Nelson Atkins Museum, Kansas City, Missouri
Selected  Collections
Santa Barbara Museum of Art, Santa Barbara, CA
Utah Museum of Fine Arts, Salt Lake City, UT
Museum of Fine Arts, Santa Fe, New Mexico
State Capitol Art Collection, Santa Fe, New Mexico
Harwood Foundation, Taos New Mexico