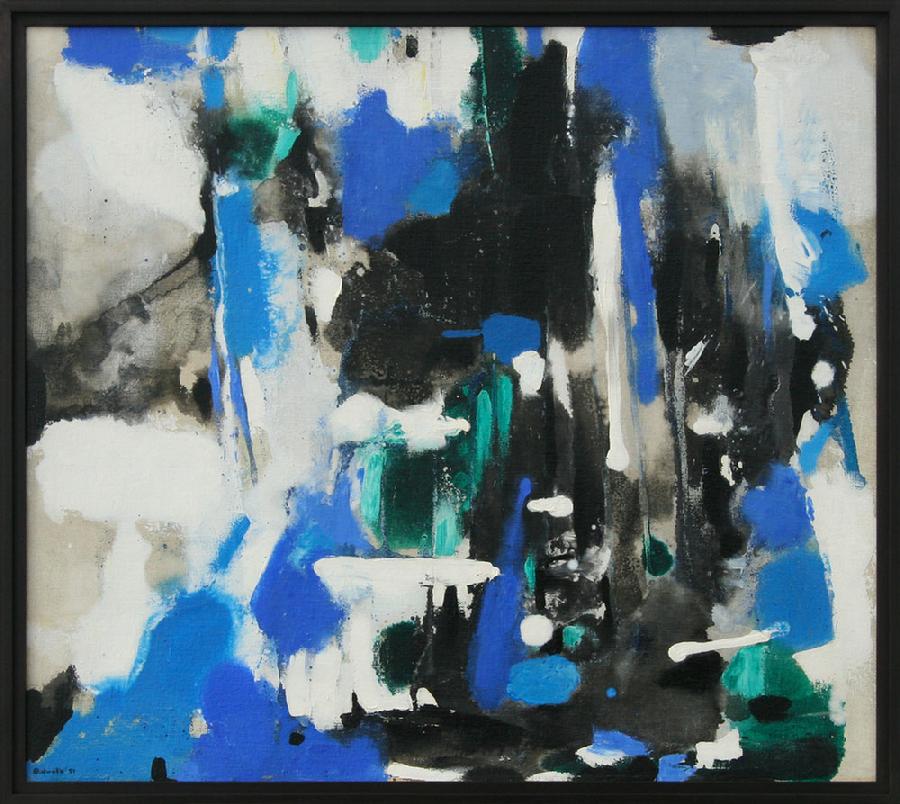 (SOLD)  FELIX RUVOLO (1912-1992), Illusions, 1951, Oil on canvas, 31" x 35"
Felix Ruvolo
Biography
Felix Ruvolo was born in New York City in 1912. After spending time in Italy as a child, Ruvolo's family returned to the United States where they settled in Chicago. Here, Ruvolo furthered his studies at the Chicago Art Institute and soon began exhibiting. The young artist was quickly gaining recognition and began teaching the Art Institute of Chicago in 1945 and continued teaching there for three years.
Ruvolo was soon recruited West, where he was asked to teach at Mills College in Oakland. After he moved to Berkeley, California he became a member of a group of artists known as the 'Berkeley School,' a collection of teachers and students from the University of California at Berkeley. Felix Ruvolo had previously worked in a primarily representational style until he began to adopt a dramatic, new abstract technique.
While many of his pre-1950 works experimented with Surrealism, and whimsical fantasy subjects Ruvolo soon abandoned all representation. Along with artists Erle Loran, Nancy Genn, John Haley, Karl Kasten, James McCray, Margaret Peterson, Sonya Rapaport, and Glenn Wessels, Felix Ruvolo became heavily influenced by San Francisco-based Abstract Expressionist painters Hans Hofmann and Clyfford Still. During the mid 1950's these artists developed a bold, colorful variation of the New York-based style of abstract painting. They also modified the darker painting style of Clyfford Still and the San Francisco School working from 1946 to 1950. The Berkeley School's leading member, Hans Hofmann emphasized the abstract qualities of line, color, texture and space.
Felix Ruvolo  was widely reguarded during his lifetime and exhibited in the ground-breaking exhibition at the Museum of Modern Art in New York in 1951 as well as at the Whitney Museum of American Art, the Metropolitan Museum of Art, the Corcoran Gallery of Art, the Brooklyn Museum, the Carnegie Institute, the Pennsylvania Academy, Brazil's Sao Paulo Biennial. His work his held in the public and private collections of the Chicago Art Institute, the Krannert Museum, the Walker Art Center, the Oakland Museum of Art, and the Auckland City Museum, New Zealand.
Selected Exhibitions
Solo exhibition, Art Institute of Chicago; Solo exhibition, Grand Central Moderns, New York, 1949; Solo exhibition, M.H. de Young Memorial Museum, San Francisco, 1948, 1957; Corcoran Gallery Biennials, 1939-1947; Viviano Gallery, New York, 1950-1954; Poindexter Gallery, New York, 1958-1960; California Palace of the Legion of Honor, San Francisco; San Francisco Museum of Art; Richmond Art Center, California; University of Illinois; Denver Art Museum; Walker Art Center, Minneapolis; Museum of Modern Art; Whitney Museum; Metropolitan Museum; Albright Gallery; Paintings of the Fifties with Emerson Woelffer, Gruenebaum Gallery, New York, 1982