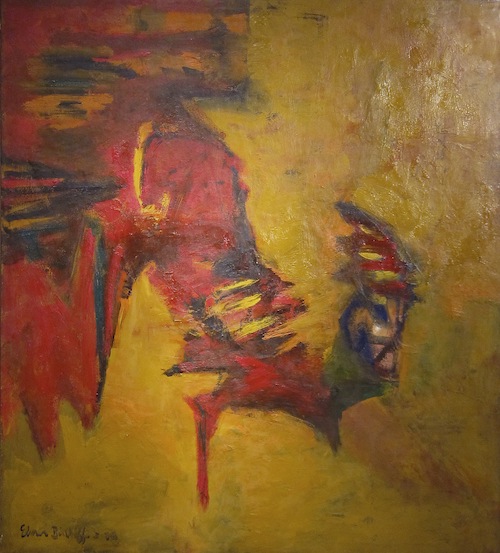 (SOLD) ELMER NELSON BISCHOFF, (American, 1916-1991), Untitled, 1948, Oil on canvas, 59 1/2" x 53"
Elmer Nelson Bischoff
A key figure in the California Bay Area abstract and figurative movement following World War II, Elmer Bischoff graduated in 1939 from the University of California. As an art student there, he had been strongly influenced by Margaret Peterson, and spent about ten years painting in the style of Picasso.
After graduation, he was a ceramics and jewelry teacher at a high school in Sacramento and then served three years in the Army Air Force in London during World War II.  In 1946, he became a part of the faculty of the California School of Fine Art.
During his first year on faculty at the California School of Fine Arts in San Francisco, during the 1940s, Bischoff incorporated a surrealist spirit into his work, oils and watercolors that reflected twirling, strutting and flying forms. He used delicate line and pastel colors, reminiscent of Rothko and Matta. By 1947, his soft ethereal abstractions had given way to vigorous, brutal paintings on a much larger scale. He resigned From the California School of Fine Arts in 1952 when his friend Hassel Smith was dropped from the faculty. At about this same time, influenced by his association with David Park, he made the transition from pure abstraction to figurative painting although his work was softer with much more impressionism than Park's.
From 1953 to 1956, he was an art instructor at Yuba College at Maryville and then had a watershed one-man exhibition at the California School of Fine Arts in 1956 when he got much recognition.  From that time, he chaired the CSFA graduate school and became one of the school's most influential teachers.  In 1963, he joined the faculty at the University of California at Berkeley.
In the 1970s, he changed from oil to acrylic paint and moved from figurative abstraction to energetic works that hearkened back to the Abstract Expressionism he had given up earlier.
Source:
Thomas Albright, Art in the San Francisco Bay Area
Selected Solo Exhibitions
1947 California Palace of the Legion of Honor
1955 Paul Kantor Gallery
1956 San Francisco Art Association Gallery
1961 M.H. de Young Memorial Museum
1964 Crocker Art Gallery
1969 Richmond Art Center
1971 San Francisco Museum of Art
1975 San Francisco Art Institute
1975 The Oakland Museum of California
1979 John Berggruen Gallery
1979 San Jose Museum of Art
1985 San Francisco Museum of Modern Art
Selected Group Exhibitions
1951 Los Angeles County Museum of Art
1955 Richmond Art Center
1957 The Oakland Museum of California
1959 Whitney Museum of American Art
1960 Denver Art Museum
1962 San Francisco Museum of Modern Art
1962 National Institute of Arts and Letters
Selected Collections
M.H. de Young Memorial Museum
Crocker Art Museum
Smithsonian Institution
The Phillips Collection
Hirshhorn Museum and Sculpture Garden
Museum of the National Academy of Design
Museum of Fine Arts, Houston
San Francisco Museum of Modern Art
Oklahoma City Museum of Art
Kemper Museum of Contemporary Art
The Oakland Museum of California
Honolulu Museum of Art
Orange County Museum of Art