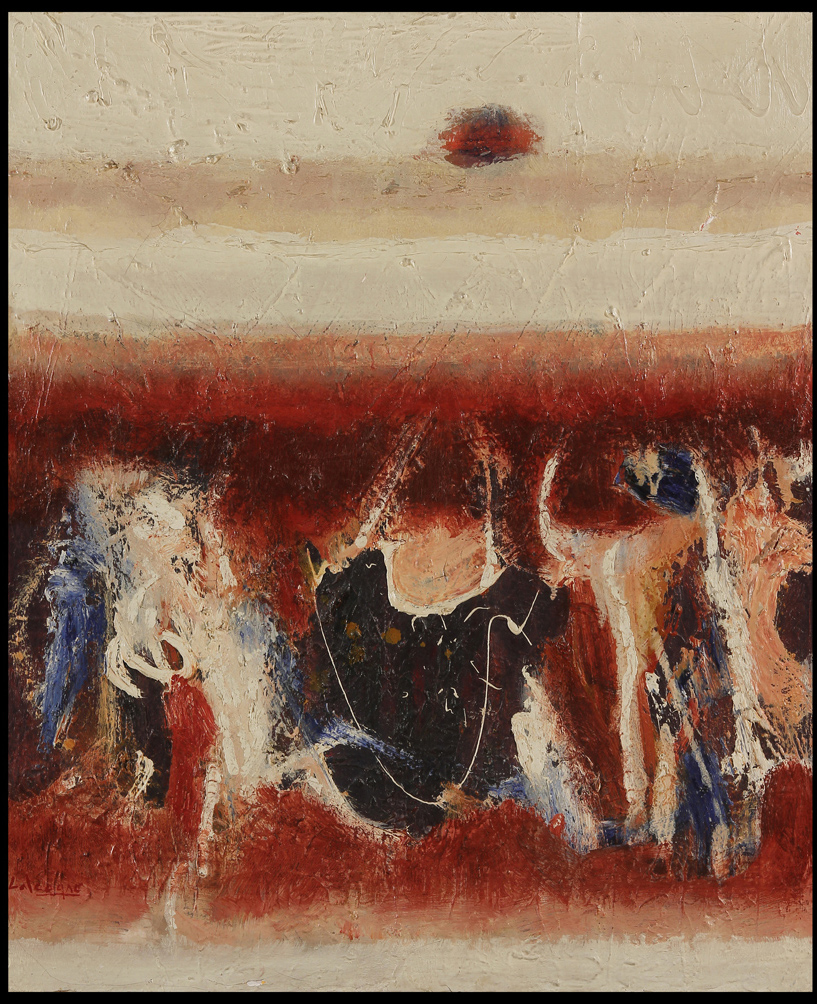 Lawrence Calcagno
American
(1913 – 1993)
Biography
Lawrence Calcagno (1913 – 1993) was born in San Francisco to Italian immigrants. At the age of ten his family moved to their ranch in the Santa Lucia Mountains, Monterey County, and there he lived until 1935 when he left to join the merchant marines and traveled to Asia. After a few years in the Army, Calcagno enrolled at the California School of Fine Arts in San Francisco. He developed a gift for teaching as well as painting, working at New York University and eventually Carnegie Mellon University.
Selected Solo Exhibitions
1945 The Little Gallery
1959 Fairweather-Hardin Gallery
1965 Hewlett Gallery
1965 Museum of Fine Arts, Houston
1968 Honolulu Academy of Arts
1970 Ithaca College Museum of Art
1973 Smithsonian Institution
1976 Contemporary Arts Center, Honolulu
1987 Anita Shapolsky Gallery
1992 David Anderson Gallery
1999 Canfield Gallery
2000 The Albuquerque Museum
Selected Group Exhibitions
1949 San Francisco Museum of Art
1955 Whitney Museum of American Art
1958 Brussels Worlds Fair
1958 Whitney Museum of American Art
1960 Walker Art Center
1961 Solomon R. Guggenheim Museum
1963 Whitney Museum of American Art
1966 National Collection of Fine Arts
1967 Whitney Museum of American Art
1990 Anita Shapolsky Gallery
Selected Collections
 Smithsonian Institution
Museum of Fine Arts, Boston
National Gallery of Art, Washington D.C.
Currier Gallery of Art
Guilford College Art Gallery
Westmoreland Museum of American Art
Brooklyn Museum of Art
The Oakland Museum of California
San Francisco Museum of Modern Art
Whitney Museum of American Art
Los Angeles County Museum of Art
California Palace of the Legion of Honor
New York State Art Commission
New York University Art Collection